Fracking in Pennsylvania: What goes on behind the scenes?
(Read article summary)
Fracking has revolutionized the US energy landscape, but the technique is controversial. One energy blogger takes a tour of a fracking site for himself, to see what all the fuss is about.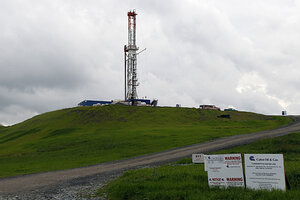 Alex Brandon/AP/File
Touring a "Fracking" Site in Pennsylvania
It's easy to talk about the shale gas revolution in the abstract and forget that it is the cumulative result of thousands of operations in locations across the country. It combines the technological marvel of precisely planned and executed drilling more than a mile below ground with the efforts of teams of skilled workers on the surface, and affects the surrounding community in many ways. Last month I had my first opportunity to visit one of these sites, near Williamsport in north-central Pennsylvania. I also saw several nearby sites in different stages of development. Although I was consistently impressed, I also tried to observe with the concerns of shale gas critics in mind.
The Anadarko Petroleum well "pad" I toured is located in Cogan House Township in rural Lycoming County, atop the Marcellus shale formation. This site visit for bloggers and other media was arranged by API, which also paid for accommodations in Williamsport. Anadarko provided experts from its local engineering and public affairs staffs and hosted a dinner with members of the community the evening before the site tour.
---