Oil's dwindling role in Middle East affairs
(Read article summary)
The US is becoming less dependent on Arab oil, Salhani writes, making it less of an issue when it comes to decisions about Syria and the Middle East.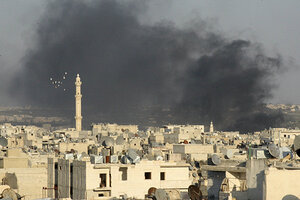 Ammar Abdullah/Reuters
On his way back from the Yalta conference in February 1945 where US President Franklin D. Roosevelt met with Great Britain's Winston Churchill and the Soviet Union's Stalin, the American president made an unscheduled stop in Egypt where he met with Saudi Arabia's King Abdel Aziz ibn Saud aboard the USS Quincy, in the Suez Canal's Great Bitter Lake. The basis of the meeting was to ensure that Americans would have an uninterrupted supply of oil.
Oil in fact was the only thing that these two very different men had in common. Oil was the common thread binding Arabs and Americans. The Arabs produced it in large quantities and the Americans consumed it in large quantities.
Over the past several decades US presidents and Western European leaders had to worry about how any policy decision taken by them would affect the cost of gas at the pump, and thus ultimately, affect their own careers. As one can easily imagine, no politician in the world would want to be blamed for having been the cause of raised prices at the pump. (Related article: Saudi Prince Bandar Schemes in Syria)
---