Oil worries extend beyond Libya and Syria
(Read article summary)
Conversations surrounding last week's oil markets centered on Libyan production issues and the possibility that U.S. military strikes on Syria may have broader implications for crude oil, Graeber writes.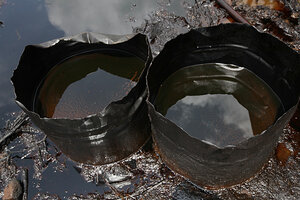 Sunday Alamba/AP/File
Sabotage and theft from oil producing regions in Nigeria has left a black mark on the nation's economy. Oil production is down more than 7 percent this year, bringing the economy along with it. Last week, Royal Dutch Shell announced it entered into talks with Nigerian villagers who said their lives were changed for the worse because of the company's pipeline spills. While that may offer some relief for the Niger Delta, the death of at least 20 people at the hands of Islamic militants suggests it's still no place to do business.
Conversations surrounding last week's oil markets centered on Libyan production issues and the possibility that U.S. military strikes on Syria may have broader implications for crude. Brent crude oil prices for last week hovered above the $115 per barrel mark. In April, Libya was still producing around 1.4 million barrels of oil per day, long before there were any serious concerns about military action in Syria. Nigeria's Bonny Light crude oil grade, however, has been under force majeure ever since. Though Libya's near-term oil prospects are dwindling, Nigerian production isn't exactly on the rebound. (Related article: Looking for the Next Mega Oil Play)
---