Tidal power: Energy's wave of the future?
(Read article summary)
While marine and hydrokinetic energy may be quite literally the wave of the future, its moment may be beyond the current horizon, Graeber writes. That said, it's predictable, it's easy to get to, and some of the world's most densely populated areas are coastal communities, which means it's cheap to connect to the grid.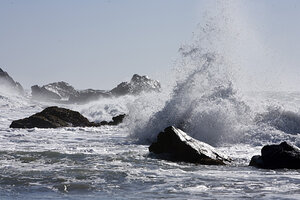 Melanie Stetson Freeman/Staff/File
Back in January, the Federal Regulatory Commission decided a good place for a new pilot project for tidal energy was, in all places, the East River in New York City near Queens. FERC said it would let Verdant Power tinker with a system designed to use the river's tidal currents to generate electricity.
FERC seemed to be taking a page from the city's ferry system with its plans for renewable goals by saying that, with all the controversy surrounding shale, just relax oh ye low-carbon advocates, we'll get you there.
FERC said the pilot license was part of a project it cooked up a few years ago to let developers play around with new hydrokinetic technologies. Verdant said it thinks it could spin out enough power to meet the needs of 9,000 or so New York homes without breaking a blade and without killing a fish. (Related article: Riding the Wave of Marine Energy Generation)
Dry holes, natural gas clouds in the Gulf of Mexico, cloudy days and calm weather mean very little for some marine energy technologies. Most are as predictable as lunar phases.
---