Move over Keystone XL. There's a new pipeline in town.
(Read article summary)
With the fate of the Keystone XL pipeline up in the air, the company behind the controversial pipeline is pushing forward with a separate pipeline to refineries in Canada.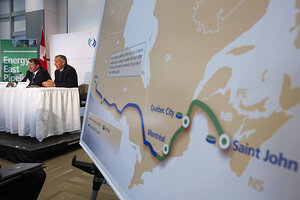 Todd Korol/Reuters/File
TransCanada Corp has released a study commissioned from the consulting and audit firm Deloitte Touche that estimates the benefit to Canada from the company's proposed Energy East Pipeline from Alberta to the Atlantic Coast, just as Canadian Natural Resources Minister Joe Oliver met this week with U.S. Energy Secretary Ernest Moniz to put the ball back in Washington's court over the controversial and long-delayed Keystone XL Pipeline.
The Energy East Pipeline would feed refineries in Quebec and New Brunswick that at present get 86 per cent of their crude supply from the international market at much higher prices than they would pay for crude from Alberta. The Deloitte report estimates that it would boost Canadian gross domestic product by $35 billion over 40 years, of which about one-third would accrue to Ontario, one-quarter to Alberta, and one-fifth to Quebec. Governments across the country would collect over $10 billion from the project over the next four decades.
Construction cost estimates for the pipeline range up to $12 billion. It would carry more than 1.1 million barrels per day (bpd) of crude oil, a figure recently increased from 850,000 bpd in view of anticipated increased demand from refineries in the east of the country. TransCanada still needs approval from Natural Resources Canada and the National Energy Board, but there is strong federal and multi-provincial political momentum in its favor. The project would be expected to be completed by 2017. (Related Article: Canada Plans Strategic Pipeline Infrastructure while US Stalls on Keystone)
---