Colorado flooding puts oil and gas wells underwater
(Read article summary)
Colorado flooding has submerged the state's fracking sites underwater. At least one pipeline has already been confirmed to be broken and leaking, and as the Colorado flooding subsides, it is only expected that more broken infrastructure and leaks will begin to surface.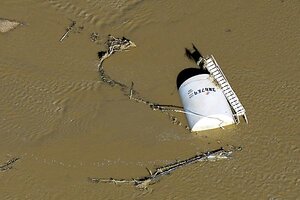 John Wark/AP
Colorado is currently experiencing some of the worst flooding it has ever seen, and as one of the most densely fracked areas in the United States, people are now beginning to worry about the stability of those fracking sites and wells, many of which have been completely covered by the floodwater.
Photos and video footage continues to be published online showing evidence of flooded fracking sites still in operation, toppled or displaced condensate tanks (which hold waste fracking fluid), smaller tanks and barrels floating in the waters, and leaking unknown fluids, and various pieces of drilling debris scattered throughout the state.
According to the Huffington Post, the historic floods affecting Colorado have already taken the lives of eight people with hundreds more still missing. It has destroyed, or damaged nearly 20,000 homes, 50 bridges, and forced more than 10,000 people to evacuate the region. Only now, as the state officials begin to make plans to rebuild, will the scale of the impact on the fracking industry be revealed. (Related article: How the Shale Boom has Effected the US Economy)
Cliff Willmeng, an anti-fracking activist and spokesman for East Boulder County United, explained that there are"hundreds, if not thousands, of wells underwater right now and we have no idea what those wells are leaking. It's very clear they are leaking into the floodwaters, though."
---