Gas prices dip to eight-month low despite Middle East tumult
(Read article summary)
Gas prices are at the lowest they've been since late January despite continued unease across the Middle East. Much of the decline in gas prices is part of the seasonal change in supply and demand, but it also reflects a shifting global oil market.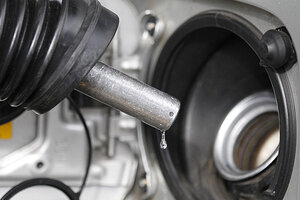 Rick Bowmer/AP/File
Turmoil continues in the Middle East, but you wouldn't know it from the way US gas prices are falling.
Libya has produced a fraction of its oil output throughout the summer. Unrest in Egypt has spread fears of disruption to oil transit routes. The threat of a US strike on Syria has largely subsided, but not without first inflating the price of oil.
Two years ago, a similar global landscape spurred world leaders to tap emergency oil reserves to stem ballooning fuel costs. Today, gas prices are the lowest they've been in months, and the question of tapping strategic reserves isn't even on the table. The global oil market isn't what it used to be, and that's working in consumers' favor.
"We're better able to tolerate these supply disruptions because Saudi Arabia is producing more oil and so is the US," says Chris Lafakis, senior economist at Moody's Analytics. What's more, he adds, the 2011 Libyan revolution led to a sharp and unexpected drop in global supply. This time around, the change has been more gradual.
"The market doesn't like shocks and that was definitely a shock," Mr. Lafakis says in a phone interview. "If you give the market time to respond to different and changing supply and demand, then it can stabilize pretty well."
---