Government shutdown threat sends oil prices near three-month low
(Read article summary)
Government shutdown is only the latest in a number of factors that's weighing on oil prices. Improving relations in the Middle East and steady supply in the US are putting downward pressure on oil prices that could be more long-lasting.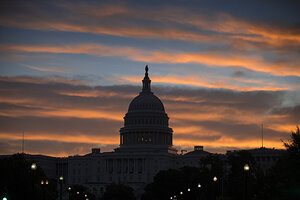 J. Scott Applewhite/AP
The threat of a government shutdown sent oil prices down near a three-month low Monday.
Investors fear even the temporary furloughing of hundreds of thousands of government employees will crimp a weak economic recovery and drive down demand for oil and gasoline.
But that's only one piece of the puzzle. Potential boosts in supply are also putting downward pressure on oil prices. Warming relations between the US and Iran, and pursuit of a diplomatic solution in Syria portend a more stable situation in the oil-rich Middle East. In the US, a calm hurricane season has meant smooth and uninterrupted production in the Gulf of Mexico.
"We're kind of getting triple witching out there," says Tom Kloza, chief oil analyst for GasBuddy.com, a website that tracks retail gasoline prices. "A lot of people are saying it's about time crude oil prices are buckling."
US crude oil prices dropped $1.08, or 1.1 percent, to $101.79 a barrel late Monday morning after reaching a low of $101.05. That's the lowest prices have been since early July. Gas prices averaged $3.40 Monday, down seven cents from a week ago, according to national auto club AAA.
If Congress does not negotiate a budget by Monday night, the effects would ripple out to the energy industry. Just over two-thirds of the 13,814 Department of Energy employees would not report for work, leaving essential personnel to ensure basic maintenance and safety.
"We do have essential security functions that we will have to maintain through this period while other activities probably get trimmed back," Energy Secretary Ernest Moniz said in an interview with C-SPAN over the weekend.
---