Canada looks to China, India for energy customers
(Read article summary)
With the US unable to commit, Canada is looking to China and India to sell it's vast oil and gas resources.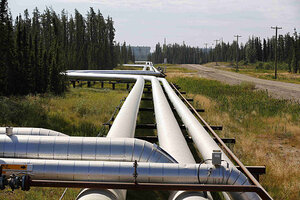 Todd Korol/Reuters/File
Asian countries continue to line up for Canadian energy to which the United States is unable to commit. This week Japan's prime minister Shinzo Abe met with his Canadian counterpart Stephen Harper to discuss the potential for shipping liquefied natural gas (LNG) across the Pacific Ocean to Japan. Although no firm agreement was announced, Japanese newspapers speculated that the first Canadian exports might reach Japan as early as 2018 and no later than 2020.
This reflects, among other things, the greater difficulty that Canada has had in developing LNG export terminals. Low prices for gas from western Canada is another problem, and although there is reason to believe in a secular rise towards higher prices, U.S. producers are less affected by the current levels. On the other hand, as prices rise, there are fears in Canada of a typical bust-to-boom scenario; and for this, there is fear that Canada's gas producers are and will continue to be ill-prepared, not even able to take advantage of the anticipated boom. (Related article: Despite Shale, OPEC Still Matters)
Nevertheless, India is also getting in line for Canadian oil as well as gas. India's High Commissioner Nirmal Verma was also in Ottawa this week to sign a nuclear cooperation agreement allowing uranium from Canada to be sold to India as reactor fuel. India seeks to triple in electricity production in the next decade, in part by building as many as a dozen new reactors.
---