As emissions rise, US coal steps up push for carbon capture
(Read article summary)
After three years of decline, greenhouse-gas emissions are rising again, largely because of increased coal use. The best chance for the industry to erase its 'dirty coal' image is through carbon capture, which is making progress.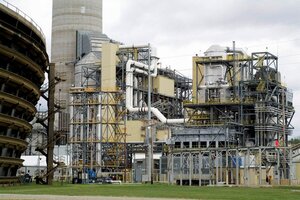 Handout/Tom Dubanowich/Reuters/File
US greenhouse-gas emissions are rising again after three years of declines, according to a new report, and the culprit is coal.
The carbon-rich fuel is making something of a comeback as prices rise for rival natural gas. The boost in emissions casts a harsh light on the coal industry's large environmental footprint at a time when the industry is already reeling from federal pollution mandates. But it also throws in relief coal's best hope for meeting those mandates: carbon capture – either with the potential to permanently store it underground or to use it to enhance oil recovery.
On Tuesday, Mitsubishi Heavy Industries and Southern Company Services announced they had successfully completed an initial demonstration phase of carbon capture at Southern's coal-fired Plant Barry in Alabama, which was able to recover more than 90 percent of the carbon dioxide, send it through a 10-mile pipeline, and inject it underground.
Mitsubishi says it will now speed up its efforts to make the technology commercially viable.
The industry needs such successes. After falling for three years in a row, emissions in the United States began climbing again in 2013, according to new projections from the US Energy Information Administration. The increase was small – about 2 percent – and emissions are still some 10 percent below their 2005 level, the EIA estimates from incomplete data, but far from the Obama administration's goal of 17 percent by 2020. The agency pointed to increased coal use as the main driver of the increase.
---