California's data challenges EPA
The Golden State filed suit on Wednesday for the right to limit greenhouse-gas emissions from autos.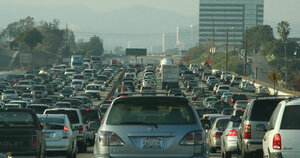 Daniel B. Wood/FILE
California's ambitious plan to regulate greenhouse-gas emissions of cars and trucks would be more than twice as effective in reducing such gases by 2016 than the new federal fuel-economy law, the state said as part of a new legal broadside against the US government this week.
Such factoids are among reams of statistical evidence offered by California in a lawsuit filed Wednesday to try to reverse the Environmental Protection Agency's rejection last month of the Golden State's request to limit such tailpipe emissions. Fifteen other states and five environmental groups quickly joined California's suit.
Just how effective California's plan would be is important because EPA Administrator Stephen Johnson has specifically cited the new fuel-economy law, which Congress approved last month, as a more effective national approach. He made that assertion when rejecting the state's request for a waiver from the Clean Air Act.
Aside from statistical evidence, California – whose plan could be the template for states containing nearly half of America's populace – is in a strong legal position to prevail in court, analysts say. That's due in part to EPA precedent granting 53 similar waivers already – and because the EPA appears to be relying on novel legal interpretations for rejecting California, they say.
---