Will nations build on climate-change momentum of 2007?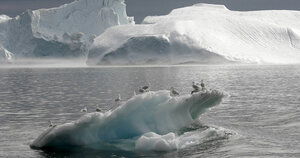 Michael Kappeler/AP
If 2007 was the year when an international scientific – and popular – momentum built around tackling global warming, this year is likely to be one of boosting that commitment. Last year, three major reports from the UN-sponsored Intergovernmental Panel on Climate Change covered the science of global warming, its potential effects, and ways for addressing the challenge. A special UN meeting in September ahead of climate-change talks in Bali last month was matched by a Washington-led initiative for major carbon-emitting nations. In 2008, expect developing nations to play a more active role in negotiations for the post-Kyoto Protocol period, (as they did in Bali). Will the Bush administration steal a march this year on the UN climate talks? The US will be pumping more research money into carbon sequestration – ways to capture CO2 – and solar energy, and several climate bills are pending before Congress, reports Peter N. Spotts.
With the Kyoto Protocol kicking in this year, what will happen to greenhouse-gas emissions?
Jan. 1 marked the start of the Kyoto Protocol's first commitment period, which runs until 2012. Current projections suggest the countries taking part will collectively achieve the protocol's goal of reducing emissions to levels more than 5 percent below 1990 levels.
---