Bush clean-tech plan gets mixed reviews
The $2 billion worldwide fund highlighted during Monday's State of the Union speech was called both a landmark proposal and an outdated approach.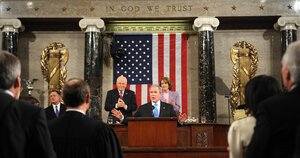 Tim Sloan/AP
After seven years in office, President Bush's positions on energy and climate change are clear: Emphasize increased energy supplies over conservation, favor voluntary steps to reduce greenhouse-gas emissions, oppose international efforts to force changes in national policy, and make sure nothing puts too much stress on the economy.
All this was evident in his State of the Union speech Monday.
There was one new proposal: a $2 billion fund that would be disbursed over the next three years to help developing nations purchase new technologies. The Environmental News Service reports:
"Along with contributions from other countries, this fund would increase and accelerate the deployment of all forms of cleaner, more efficient technologies, and help leverage substantial private-sector capital by making clean energy projects more financially attractive."
Mr. Bush's speech received mixed reviews from environmental groups, some of whom called his "voluntary efforts to curb global warming an old approach that would not work," reports Reuters. It quoted the National Wildlife Federation:
"In the fight against global warming, the science is clear: the path to avoid catastrophic climate change starts with mandatory limits on global warming pollution ... a voluntary approach adds up to lots of rhetoric and little actual change."
---