U.S. scraps ambitious clean-coal power plant
Citing high costs of FutureGen, the Energy Department funds less ambitious projects.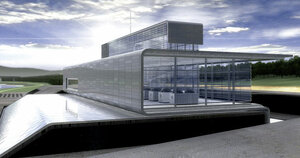 AP Photo/U.S. Department of Energy
Prospects for nearly emissions-free coal power in the United States have dimmed in the wake of the US Department of Energy's decision to pull the plug on a "clean coal" demonstration plant called FutureGen, observers say.
Instead of the $1.76 billion project, which was expected to capture and store underground 90 percent of its greenhouse-gas emissions, the Energy Department is budgeting $241 million for several commercial power-plant projects that will capture and store a smaller share of their emissions. Federal officials called it a money-saving move.
"This restructured FutureGen approach is an all-around better investment for Americans," Samuel W. Bodman, secretary of Energy, said in a statement. The smaller projects will still show that at least 1 million tons of carbon dioxide emissions can be captured annually for underground storage, he added.
While the new projects will together sequester more carbon emissions than FutureGen by itself, and could be valuable demonstrations in a commercial setting, some observers questioned the wisdom of backing off FutureGen just as it was about to get going.
"This is a backward step for clean-coal technologies, very unfortunate," wrote Steve Jenkins, vice president for gasification services at CH2M Hill, one of the nation's leading power engineering firms based in Denver in an e-mail responding to the decision.
---