Southern Baptist leaders urge climate change action
But their unofficial call to action has kindled skepticism within the conservative denomination.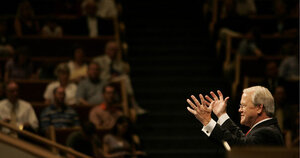 Lisa Krantz/San Antonio Express-News/Zuma Press/File
Influential Southern Baptist leaders are seeking to move the country's largest Protestant denomination – and one of its more conservative – beyond its skeptical stance on climate change to keep step with a growing 'green' awareness in the evangelical community.
A call to action on the environment, released Monday by 46 pastors and institutional leaders, "challenges Southern Baptists to be more proactive ... more aggressive and more informed," says Daniel Akin, president of Southeastern Baptist Theological Seminary in Wake Forest, N.C.
Just last June, the politically and theologically conservative Southern Baptist Convention (SBC) passed a resolution urging Baptists to proceed cautiously in the light of "conflicting scientific research."
But as more Evangelicals become actively engaged in what they call "creation care," concerns are growing that the SBC will be left behind. "Our cautious response to these issues in the face of mounting evidence may be seen by the world as uncaring, reckless and ill-informed. We can do better," the declaration says.
While it is an unofficial step, the declaration represents "a major step forward," according to David Gushee, a Baptist ethicist at Mercer University in Atlanta.
The initial spark for the action came from a young seminary student, Jonathan Merritt, son of a former SBC president, who pressed his case among a range of leaders. Frank Page, the current SBC president, and some former presidents are among those signing. Other prominent leaders did not, including Richard Land, president of the Ethics and Religious Liberty Commission, the SBC's public-policy arm.
---