US lists polar bears as threatened
Wednesday's designation is the first to list a species due to global warming threats.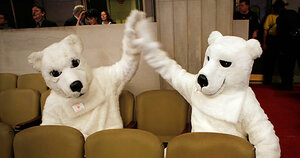 REUTERS/Kevin Lamarque
It's official: The polar bear is threatened and is likely to become endangered if actions aren't taken to stem the loss of its habitat. That was the decision of the Interior Department, which on Wednesday issued a long-awaited decision to list the polar bear under the Endangered Species Act.
It is the first time a species has been listed due to a threat from global warming, and raises it questions about the scope and ability of the act to address such a complex global concern.
Interior Secretary Dirk Kempthorne sought to answer some of those questions in announcing the listing, which comes one day before the deadline imposed for the decision by a federal district court.
"The Endangered Species Act is not the means, nor the method, nor the vehicle by which you can deal with global climate change," he said in a press briefing, noting that the listing will not hold individual sources of carbon emissions responsible for contributing to the decline of the polar bear.
In addition, the department is seeking to clarify the scope of the act by invoking a special "4-D rule" which will essentially allow any activities already permissible under the current Marine Mammals Protection Act (MMPA) – which makes it likely that decisions on oil and gas permits, for instance, are not likely to change.
---