What polar bears get from new protected status
A recovery plan is ensured. But US includes caveats to safeguard oil and gas drilling.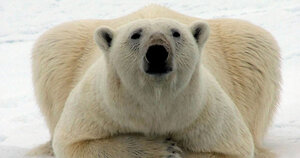 Joseph Napaaqtuq Sage/AP
The Interior Department's long-awaited decision to list the polar bear as a threatened species was a victory, of sorts, for the bear.
It came as a surprise to many who expected the Bush administration to avoid the listing, due to worries that it would curb oil and gas exploration in the bears' habitat or, worse, make every emitter of greenhouse gases answerable to the Endangered Species Act (ESA).
But in announcing the new threatened status, the administration simultaneously specified unusual stipulations designed to mitigate those effects.
"I truly believe I made the right decision," says Interior Secretary Dirk Kempthorne. "I did it so that yes, we'll protect the bear. But we're also not going to adversely impact the development of oil and gas that the country needs."
Environmental groups immediately praised the landmark listing, at the same time that they criticized the limits placed on it, in some cases promising to sue to get stricter measures adopted.
"This is an historic moment. It's the clearest acknowledgment to date we've had from this administration of global warming's urgency," says Kassie Siegel, a lawyer with the Center for Biological Diversity, one of three groups that had sued the administration over its long delays in making the decision. "But they're also simultaneously acting to reduce the protection the bear would get under the law."
---