Unlikely residents: Tropical parrots thrive in US cities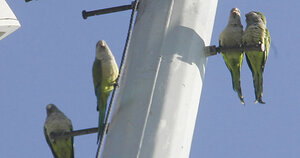 AP Photo/Shiho Fukada
Q: What are the conservation implications of all the wild colonies of escaped pet parrots that have turned up in and around some major US cities?
– Mike Gifford, Kirkland, Wash.
A: At least three dozen parrot species are now considered threatened or endangered in their quickly shrinking native tropical and subtropical habitats (mostly in South America). As such, the health of wild flocks in the United States and other developed countries around the world may be key to preserving these birds.
Today, wild parrot flocks thrive in urban and suburban areas of New York, New Jersey, Connecticut, Florida, Texas, Washington State, California, and elsewhere. San Francisco and Brooklyn host particularly large flocks, especially considering their relative lack of green space. Wild parrot flocks reportedly thrive in cities across Europe. Most of these parrots are not former pets, but descendents of birds that escaped during transport from their jungle homes to pet stores long ago.
---