Warm-up for a global-warming law
Congress to begin work on a bill the next president would be willing to sign.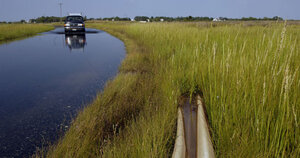 Andy Nelson - staff/file
Call this week's global-warming debate in the Senate a marker in the sea change in public opinion on the issue – and a window on what the next Congress may do to curb carbon emissions.
The top presidential nominees in both parties back a cap-and-trade system to limit US emissions of greenhouse gases. President Bush opposes it, and the White House is expected to detail objections to the 494-page Senate bill on Monday.
While the debate that begins Monday on the Senate floor is unlikely to yield a bill Mr. Bush will sign, it is already realigning prospects for legislating in a new administration.
For Republicans, who face dim prospects in November congressional elections, the bill offers an opportunity to get behind their probable presidential nominee. Sen. John McCain (R) of Arizona was an early and outspoken voice for mandatory emission-reduction targets and timetables. Other Republican lawmakers remain adamantly opposed to a big federal role.
For Democrats, it's a high-profile occasion to target Republican lawmakers who vote against an issue that has been gaining favor with the public and with a widening coalition of business, labor union, and public-interest groups.
"The political landscape on global warming has dramatically changed," says Jeremy Symons, a spokesman for the National Wildlife Federation (NWF). "We've never had union support in the past or this depth of support from business and faith groups," he adds, citing a letter last week endorsing the bill signed by Alcoa, General Electric, and the International Brotherhood of Boilermakers, as well as the NWF, Trout Unlimited, and the Interfaith Power and Light Campaign.
---