Senate warms to a climate policy
Even though legislation fell to defeat, Friday's debate marked the first time a majority backed a cap on carbon emissions.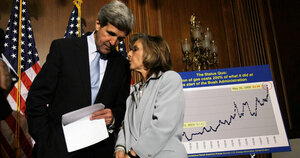 Alex Wong/Getty Images
Although the first global-warming bill that ever made it to a floor vote on Capitol Hill was defeated Friday, the legislation is setting a marker for action in a new Congress.
Last week's Senate debate also marks the first time a majority of senators – backed by a broad coalition of business, labor, environmental, and religious groups – publicly endorsed a cap on carbon emissions.
"The big change is the sense of inevitability of climate-change legislation," says Brendan Bell, Washington representative for the Union of Concerned Scientists, a leading nonprofit environmental group. "This is the beginning of the US crafting its climate-change policy, and a lot of the disagreements and the frustrations were based on the mechanisms of the program and not disputes over the science."
Both leading presidential contenders favor mandating reductions in greenhouse-gas emissions. Sen. John McCain (R) of Arizona favors a 60 percent reduction by 2050, with strong incentives for nuclear power. Sen. Barack Obama (D) of Illinois calls for an 80 percent reduction, but balks at shifting to nuclear power until a solution is found to waste disposal.
---