California's plan to cut emissions heavy on mandates
State's proposed rules are the most sweeping in the US to cut greenhouse gases.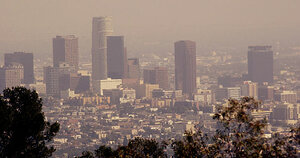 AP Photo/Ric Francis
In the most ambitious effort yet in the US to reduce greenhouse gases, California will mandate dramatic increases in automobile efficiency, cleaner fuels, and renewable power.
The state's Air Resources Board released a regulation-heavy draft plan Thursday to help implement the landmark Global Warming Solutions Act of 2006. The law, the first of its kind in the US, commits the state to cutting 30 percent of its greenhouse-gas emissions by 2020.
Most emission cuts will be accomplished through government regulations. The remaining 20 percent is left up to industry through a new emissions trading system involving seven Western states and some Canadian provinces.
That ratio pleases some environmentalists and analysts, but disappoints key industries hoping for greater flexibility. The plan touches nearly every aspect of California's $1.7 trillion economy and is likely to spur large new industries as well as raise fuel and energy costs.
"It's a balance of big regulation and ambitious market scheme. I think it's an impressive first effort at a greenhouse-gas plan for the state," says Charles Kolstad, professor of environmental economics at the University of California, Santa Barbara.
Distrust of market-based mechanisms in California means that the plan had to involve direct regulations, he says.
The ARB chair, Mary Nichols, described the plan as "comprehensive," and said California's example will help "motivate other states and our nation to enter into lasting plans to address this problem."
The largest cuts will come from:
• Transportation: The state renews its fight for autos that emit 30 percent less greenhouse gas. The effort has been blocked at the federal level, but California expects support from the next administration. Refineries must also produce lower-carbon gasoline and diesel.
---