Cloud-sniffing drones soar over Asia
Researchers track China's plume of pollution. What effect did Olympic hiatus have?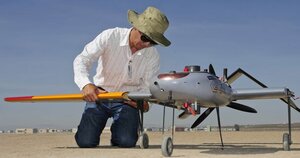 Courtesy of Jim Mumaw/Scripps Institution of Oceanography
Guiding a small squadron of robotic aircraft and fielding a network of ground stations, scientists from the United States, China, and South Korea this summer are putting vast plumes of Asian air pollution under some of the most exhaustive scrutiny ever.
The three-month campaign, dubbed CAPMEX, represents the latest in a series of ambitious international field experiments during the past decade aimed at closing a gap in atmospheric science: the need to understand how human-produced soot and tiny particles dubbed aerosols affect climate.The air-pollution issue took on added visibility with the 2008 Summer Olympics in Beijing, which ended Sunday. Air quality was a key concern for many athletes, particularly those taking part in strenuous outdoor events.
But beyond public-health concerns, pollution in the form of aerosols and soot – byproducts from burning coal and oil as well as from burning vegetation to clear farmland or as fuel for cooking – are increasingly seen as important yet complex players in Earth's climate.
---