Global warming law will boost California economy, study finds
But business groups are still concerned about the costs of the landmark emission caps.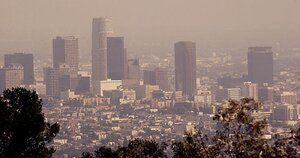 AP Photo/Ric Francis/FILE
When California made global headlines two years ago for a landmark law requiring a 25 percent cut in industrial greenhouse gases by 2020, some critics said the environmental advantages would be symbolic and net job losses significant.
Now, two studies released this week by the California Air Resources Board, the state body charged with overseeing the project, claim to show that implementing the emission-cutting measures under the pioneering law would actually benefit California's economy and public health.
The economic analysis says implementing the regulations will increase economic production by $27 billion, overall gross state product by $4 billion, overall personal income by $14 billion, and per capita income by $200.
And the public health analysis concludes that programs under AB32 – also known as the California Global Warming Solutions Act of 2006 – will help eliminate 300 premature deaths statewide, avoid almost 9,000 incidents of asthma and lower respiratory symptoms, and avoid 53,000 workdays lost to illness.
"The facts are in. These reports support the conclusion that guiding California toward a clean energy future with reduced dependence on fossil fuels will grow our economy, improve public health, protect the environment, and create a more secure future built on clean and sustainable technologies," said ARB chairman Mary Nichols on Wednesday.
The so-called Scoping Plan, which combines market-based regulatory approaches, other regulations, voluntary measures, and fees, will go to the board for adoption in November. Meanwhile, the agency is seeking public comment.
---