For Eastern Europe, the cost of going green will be a challenge
Italian Prime Minister Silvio Berlusconi (r.) and his foreign minister, Franco Frattini, spoke to the media Wednesday at an EU environmental conference in Brussels.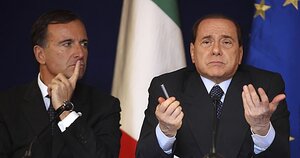 Geert Vanden Wijngaert/AP
Although Europe has developed a reputation as one of the most green-minded regions in the world, in some European countries it appears that environmentalism has a price limit.
A year ago, European leaders cheerfully announced a bright, green future: a 20 percent reduction of greenhouse-gas emissions, a 20 percent increase in energy from renewable resources, and a 20 percent increase in energy efficiency by 2020.
But when European Union (EU) member states met to finalize the plan last week in Brussels, the mood had changed considerably.
Amid the global economic meltdown, Italy and eight former communist countries now complaining that the financial cost of meeting these green targets could place undue strain on their economies.
As they weigh the financial cost of being green vs. the intrinsic value of environmental stewardship, the episode could pose the first test case for whether developing nations are willing to fight climate change even if it means making financial sacrifices.
"If Europe hesitates further this would have a tremendously negative effect on the global negotiation on climate change" says Tonia Mastrobuoni, a journalist at Il Riformista progressive daily.
In the past the EU has been internationally regarded as the role model for combining economic growth with environmental friendly policies.
However, says Antonio Missiroli, the director of studies at the European Policy Center in Brussels, the EU will lose its reputation, unless it resolves this issue by the end of the year.
---