Financial crisis threatens climate-change momentum
Experts fear the credit crunch will discourage governments worldwide from turning to taxpayers for assistance in climate-change efforts.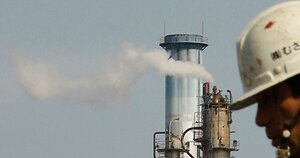 Reuters/Kim Kyung-Hoon
As financial mayhem and recession increasingly demand the attention and resources of governments around the world, environmentalists are starting to fret: What about climate change?
Their concern is not just that the trillions devoted to rescuing the global financial system mean less cash for the climate-change agenda; they are worried a prolonged recession will deflect consumers from green habits and drain corporate and government coffers of funding for research and development into green technology.
Yvo de Boer, who heads the UN climate change secretariat, warned last week that it was "undeniable that the financial crisis will have an impact on the climate-change negotiations," which are due to resume in Poznan, Poland, next month.
He noted that of the 190 nations seeking to conclude a new UN treaty in Copenhagen next year, few would find it easy to turn to taxpayers for funding.
"If we go to citizens under the current circumstances ... and say 'I'm increasing your tax burden ... to pay for climate policy,' that might not go down very well," Mr. de Boer said at a recent conference in China.
Tom Burke, founding director of the sustainable-development group E3G, adds that the financial crisis has generated a "politics of distraction." "People are focused on other things and [climate change] has slipped down the attention span of politicians and the media," he says.
---