California jumps to front of global-warming fight
Its new emissions plan aims to cut each Californian's carbon 'footprint' from 14 tons to 10 tons a year by 2020.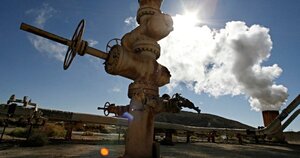 Fred Prouser/Reuters/File
California's new carbon-emissions rules – the toughest in the United States – come at a propitious time for those anxious to curb global warming.
The plan is likely to pass muster with an Obama administration, eager to fight climate change, and could serve as a model for other states. It also sends a message internationally. The state's effort to reduce the average Californian's carbon "footprint" – from 14 tons per year to around 10 tons by 2020 – is an ambitious goal that is attracting foreign attention.
"As world leaders meet in Poland to negotiate an international climate deal, California regulators set an international and national standard for how to meet aggressive targets to cut global-warming pollution that will create a high-wage, clean high-tech economy," said Derek Walker, director of the California Climate Initiative of the Environmental Defense Fund (EDF). On Friday, the United Nations' was nearing the end of its climate negotiations in Poznan, Poland.
---