How to stash carbon dioxide: Turn it into stone.
Dissolved in water and pumped underground, CO2 becomes limestone.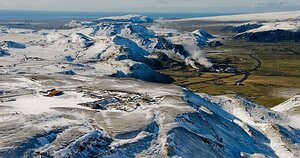 Stefan Mar Petursson/Courtesy of Reykjavik Energy
A long-known but little-tested means of permanently storing carbon dioxide (CO2) underground, mineral carbonation, is now the subject of study in Iceland and Oman.
The good news is that mineral carbonation promises to lock away CO2 – a powerful greenhouse gas – in a much more stable form than simply pumping it into an underground geologic formation. The bad news: Sequestering CO2 in this way is resource-intensive.
Scientists the world over are exploring ways to capture carbon dioxide and pump it deep underground as a compressed gas. But what's to keep the buoyant gas from working its way up through fractured rock and reentering the atmosphere?
Ensuring that such a leak never occurs could require monitoring the injection site for a very long period of time – from hundreds to tens of thousands of years.
"How long can you afford, or how long can you plan on a government being in place to be able to watch over something?" says Travis McLing, a technical lead researcher and geochemist at the Idaho National Laboratory in Idaho Falls. "Name a government that's been stable or intact for even 1,000 years. Long-term stewardship is a real issue."
One potential way to prevent CO2 from leaking out after injection is to quickly turn the gas into minerals that also occur naturally, such as calcium carbonate, which is the main component in limestone. Many questions remain about the mineralization process, from how quickly it would occur to the cost of required resources and infrastructure, but a handful of scientists are bent on unearthing the answers.
---