Canada's carbon sink has sprung a leak
Until recently, its vast forests vacuumed up carbon dioxide. Now that process has been thrown in reverse.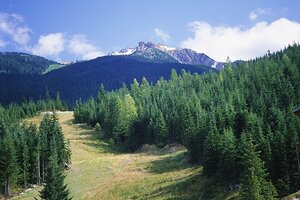 Newscom/FILE
Billions of tiny mountain pine beetles are treating Canada's boreal forest like a 3,000-mile-long salad bar, transforming a key absorber of carbon dioxide greenhouse gas into a CO2 emitter instead.
In just a decade, exploding beetle populations and a rise in wildfires have flipped Canada's boreal forest from its longstanding role as a natural carbon vacuum – sucking up 55 million or more tons of CO2 annually – to that of a giant tailpipe emitting up to 245 million tons of CO2 each year, according to the Canadian Forest Service.
That sharp about-face is raising questions about the future of northern forests worldwide that are being hit hard by global warming – including Russia's massive boreal expanse, where wildfires have risen dramatically.
The trend has grown clearer in the past decade and was one reason that Canada did not count its forests as a carbon sink as part of the Kyoto climate treaty process: It couldn't be sure they were.
Debate over how best to respond is growing. Some forest experts argue for more logging to remove vulnerable trees before beetles or fire get to them. Other scientists and environmentalists say the solution lies in logging less and leaving more boreal in its natural state. In 2007, 1,500 highly respected scientists from more than 50 countries called for more protection of Canada's 1.4 billion-acre boreal forest, calling it one of the largest intact forest and wetland ecosystems left on Earth and home to large populations of grizzly bear, caribou, and wolves.
---