Climate may heat crises, too, military analysts say
Competition for resources, 'climate migrants,' failed states are among top concerns.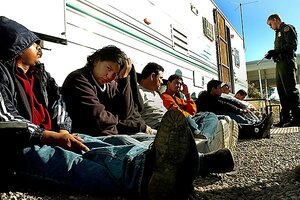 Newscom/FILE
Top US defense officials are envisioning ways that American military personnel, equipment, and installations might be affected by extreme weather events, rising ocean temperatures, shifts in rainfall patterns, and other natural resource stresses projected to accompany global climate change – stresses that may exacerbate existing security threats and breed new ones.
Experts disagree on the scale and timing of threats.
But in Washington, climate-related problems are being seen as a hard security issue. The US intel­­li­­gence community, for example, recently wrote a National Intelligence Assessment on the national security impacts of global climate change through 2030. Another presidential report prepared by the US intelligence community, Global Trends 2025, has climate change as a top talking point.
The new director of National Intel­li­gence, Dennis Blair, recently told a committee of senators that the intelligence community "judges that global climate change will have important and extensive implications for US national security interests over the next 20 years."
Academics are diving into the topic, too. In December, the Pentagon unveiled a controversial program to fund social science research. The $50 million research fund, known as Minerva, is funding work at the University of Texas at Austin to study the effects of climate change on the security of African nations.
---