Carbon emissions pose danger, EPA finds
Agency's move lays the foundation for expanding US regulation of thousands of companies.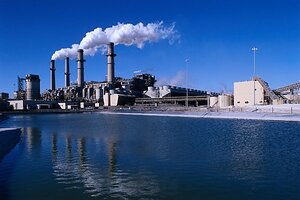 CORBIS/NEWSCOM
In deciding that carbon dioxide poses a danger to human health and the environment, the Environmental Protection Agency has laid the groundwork for new and expansive federal oversight of carmakers, utilities, and a host of other large emitters of the greenhouse gas.
The EPA's finding, announced Friday, is likely to act as a big nudge to Congress to take quicker action on new energy and climate legislation that sets carbon-emissions limits. Many lawmakers and companies would prefer to see limits set by Congress rather than regulations set by the EPA. Indeed, the Obama administration has made clear that it, too, prefers a legislative approach.
The finding also bolsters the Obama administration's standing heading into international talks in December on addressing climate change, in that it is the most assertive stance yet taken by the United States. Moreover, it may also pave the way for the Securities and Exchange Commission, which keeps watch over Wall Street, to require companies to disclose carbon-emissions costs and liabilities that could affect their businesses.
In adding carbon dioxide and five other greenhouse gases to the list of compounds that can be regulated under the Clean Air Act, the EPA creates a legal basis for limiting CO2 emitted from tailpipes – an authority the US Supreme Court has said the agency could claim but that the Bush administration declined. Automobiles are a major source of C02, and the EPA action Friday signals that the Obama administration intends to take a more aggressive approach to addressing global warming.
---