America's national parks face challenges
Shifting climates and needed upkeep are issues facing America's treasured spots.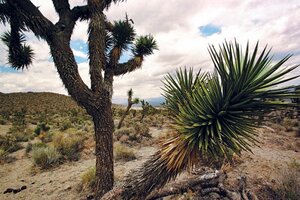 Robert Harbison/The Christian Science Monitor/File
Acadia National Park, Maine
Park ranger Matt Holly stands atop the bald, rounded top of Cadillac Mountain as a small knot of tourists huddles around him. At just over 1,500 feet, Cadillac is the highest point along the US Atlantic coastline. On this late summer day, the vista is spectacular: Lush green forests and azure ocean spread from the Porcupine Islands in Frenchman Bay to the east to the Cranberry Islands in the south and Seal Cove to the west on the Gulf of Maine. Most of the panorama is part of Acadia National Park, the oldest national park east of the Mississippi, which is made up entirely of lands donated by private citizens.
But the view isn't always this pristine, explains the slender young ranger from under his Smokey Bear hat. He holds up two charts: One shows high levels of air pollution in the park when the winds are from the west. Another shows sharply lower levels when winds are from the north or south. Ozone levels at Acadia sometimes rise to what are considered unhealthful levels, and the polluted air is suspected of causing the mercury found in fish caught in the park's shimmering freshwater lakes. Without air pollution, a visitor atop Cadillac should be able to see 110 miles. Today, 33 miles is more like it.
---