Mighty caribou herds dwindle, warming blamed
Many caribou herds have lost more than half their number from the maximums of recent decades.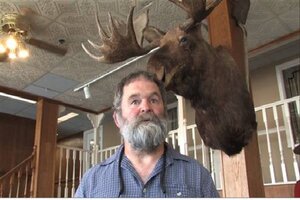 Rick Bowmer/AP
ON THE PORCUPINE RIVER TUNDRA, Yukon Territory
Here on the endlessly rolling and tussocky terrain of northwest Canada, where man has hunted caribou since the Stone Age, the vast antlered herds are fast growing thin.
And it's not just here. Across the tundra 1,000 miles to the east, Canada's Beverly herd, numbering more than 200,000 a decade ago, can barely be found today.
Halfway around the world in Siberia, the biggest aggregation of these migratory animals, of the dun-colored herds whose sweep across the Arctic's white canvas is one of nature's matchless wonders, has shrunk by hundreds of thousands in a few short years.
From wildlife spectacle to wildlife mystery, the decline of the caribou — called reindeer in the Eurasian Arctic — has biologists searching for clues, and finding them.
They believe that the insidious impact of climate change, its tipping of natural balances and disruption of feeding habits, is decimating a species that has long numbered in the millions, and supported human life in Earth's most inhuman climate.
Many herds have lost more than half their number from the maximums of recent decades, a global survey finds. They "hover on the precipice of a major decline," it says.
The "People of the Caribou," the native Gwich'in of the Yukon and Alaska, were among the first to sense trouble, in the late 1990s, as their Porcupine herd dwindled. From 178,000 in 1989, the herd — named for the river crossing its range — is now estimated to number 100,000.
---
Subscribe to Recharge
Get the Monitor stories you care about delivered to your inbox.