Water supply of millions threatened by melting of Kashmir's glaciers
New study by scientists in India finds that the biggest glacier in the Indian portion of Kashmir has shrunk, imperiling the water supply of millions of people in the region..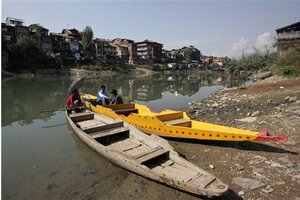 Mukhtar Khan/AP
Indian Kashmir's glaciers are melting fast because of rising temperatures, threatening the water supply of millions of people in the Himalayan region, a new study by Indian scientists says.
The study by Kashmir University's geology and geophysics department blamed the effect on climate change, and said it endangered the livelihoods of two-thirds of the region's nearly 10 million people engaged in agriculture, horticulture, livestock rearing and forestry.
The Kolahoi glacier, the biggest in the Indian portion of divided Kashmir, has shrunk to about 4.44 square miles (11.5 square kilometers) from about five square miles (13 square kilometers) in the past 40 years, the study found.
Shakil Romshoo, an associate professor in the department who led to three-year study, describes the rate of melting as "alarming." He says that Kolahoi had shrunk by 18 percent, and over the same period, other glaciers in the region had shrunk by 16 percent.
The Kolahoi feeds Kashmir's lifeline Jhelum River, which is also vital for agriculture in Pakistan's most populous province of Punjab.
The study was released recently at a workshop on the impact of shrinking glaciers held in Srinagar, the capital of Indian Kashmir.
Last year, international charity ActionAid also warned that the glaciers in most areas of Kashmir have shrunk. The group said that climate change was affecting rain and snowfall patterns, which was lowering food production.
---