China confronts global warming dilemma
China, the world leader in both economic growth and carbon emissions, faces the dilemma of how to respond to the challenges of global warming while not harming its robust economy.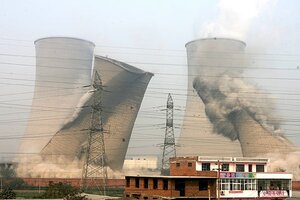 AP
China awoke to climate change with a storm. It was late January 2008, a time when people across the country were busily gathering recipes, stocking fireworks, and preparing to welcome relatives to celebrate the Lunar New Year. But suddenly, severe ice storms brought much of the nation to a standstill. For two weeks, fierce winds, sleet, and snow downed power lines, shuttered businesses, and razed more than 200,000 homes across southern and central China.
Hundreds of thousands of travelers who had been headed home to see families were stranded on icy rail platforms. Cities struggled to provide power and water to residents, and snow blanketed the Taklamakan desert. Even the bright lights of Shanghai briefly went dark. All told, more than 100 people were killed.
China's worst storm in decades was, according to United Nations scientists, an illustration of what a changing climate may herald for the future. As such, it was a tipping point in the country's environmental awareness.
"For the ordinary people," says Hu Kanping, editor of the Environmental Protection Journal, "it was a historical moment for them to know what is climate change."
In an editorial comparing the storm to Hurricane Katrina, the influential Chinese business magazine Caijing wrote: "This painful experience ought to set us thinking about how we can better pay Nature the respect she deserves and should make us listen more attentively to what science tells us about how climate change leads to natural disaster."
---
Subscribe to Recharge
Get the Monitor stories you care about delivered to your inbox.