Plant scientists build a 'Sears catalog' for corn genome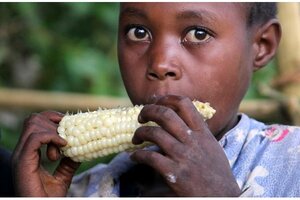 Reuters
Plant scientists announced last week they have built the foundation for a complete catalog for corn genes, with far-reaching implications for humanity's food supply.
Researchers have been working on the genome-sequencing project for four years. The draft sequence, now 95 percent complete, has given scientists a point of comparison they can use to begin measuring the range of genetic diversity among different varieties of corn, or maize.
The diversity is represented in what researchers call a haplotype map, or hapmap. Such maps are expected to help scientists zero in on specific genes or groups of genes that give the plants important traits.
Armed with more-precise genetic information, researchers say, breeders could develop new maize varieties that withstand prolonged heat and drought, use nutrients such a nitrogen more efficiently, or pack more nutrition per kernel. They could do it in far less time than it currently takes to develop new varieties.
The results represent "an enormous advance for science and for agriculture on the planet and all those who depend upon it," says Molly Jahn, a former plant geneticist and now US deputy undersecretary of agriculture for research, education, and economics. The USDA helped fund the project.
For milleniums, breeders have had labored long and hard to improve crops, based on effects they observed in the fields. In essence, they were a bit like architects admiring a building from the outside and then trying to replicate it without a blueprint to follow.
The genome is akin to having the blueprints for the building "from basement to attic," Dr. Jahn says.
---
Subscribe to Recharge
Get the Monitor stories you care about delivered to your inbox.