Independent review of IPCC and its global warming reports: an answer to critics
Top international scientists will take part in an independent review of the Intergovernmental Panel on Climate Change (IPCC) and its reports on global warming, which have been widely criticized recently for inaccuracies.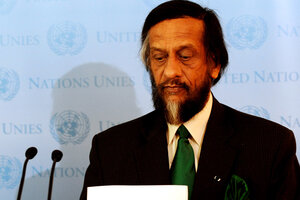 NEWSCOM
The political fight over the science of global warming took another turn when the United Nations announced Wednesday that it was initiating an investigation into the practices of the Intergovernmental Panel on Climate Change (IPCC).
The probe will be run by an international consortium of national academies of science, the InterAcademy Council. The yet-to-be-staffed panel is charged with developing recommendations on procedural improvements that the global climate-science advisory body should adopt as it prepares a new set of reports on climate science, due out in 2014.
The actions are a response to more than three months of embarrassing revelations, beginning with the widespread publication of e-mails either leaked or hacked from the University of East Anglia's Climatic Research Unit in England.
The e-mails opened a window on the personal attacks, short tempers, and internal politics that often come with research – all the more so in fields on which the political process has placed so much emphasis.
---