Devoted to saving Lake Baikal, she won even Putin's ear
Marina Rikhvanova is one of seven grass-roots environmental activists who will receive the 2008 Goldman Environmental Prize in San Francisco Monday.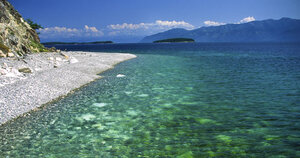 Boyd Norton/The Goldman Environmental Prize
In a land where oil dominates politics and environmental issues barely make the agenda, it was a veritable coup.
Concerned with plans to route a major oil pipeline within 900 yards of pristine Lake Baikal, Marina Rikhvanova and her Baikal Environmental Wave advocacy group led thousands of people into the streets of nearby Irkutsk; collected over 20,000 petition signatures; and summoned "flash mobs," which used tactics such as handing bottles of murky "Baikal water" to embarrassed officials.
After two months of protests, President Vladimir Putin pointedly asked the chief of state-owned oil company Transneft on TV whether an alternative route was possible. "If you are hesitating, then there is such an opportunity," Putin told the quavering official. The pipeline was subsequently rerouted.
In recognition of her work, Ms. Rikhvanova will on Monday receive the Goldman Environmental Prize at a ceremony in San Francisco. A biologist and veteran environmental crusader, she has spent her life battling to save Siberia's "sacred sea" – which holds over 20 percent of the world's fresh water reserves – from the depredations of Soviet industrial planners and unregulated Russian businessmen.
"Around here she is a major authority, in both public and scientific circles," says Yelena Tvorogova, president of the environmental nongovernmental organization (NGO) Revival of Siberian Land Foundation in Irkutsk. "[Rikhvanova] is one of the founders and is still a key leader of the movement to save Lake Baikal. She's always been persistent and uncompromising in her principles."
---