How Earth Day became … so everyday
At 38, an activist event has become an occasion for noting widespread practices – and for eyeing new concerns.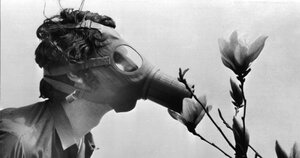 AP/File
At 38 years old, Earth Day seems to be entering a midlife identity crisis.
By one estimate, some 1 billion people around the world will do something to observe the anniversary of the first Earth Day in 1970, a landmark in the history of the environmental movement. But attitudes and activities will vary widely. While some celebrate nature's beauty and wonder, others will protest environmental degradation and demand action.
Today environmental concerns are aired year-round: Reports from the United Nations and Al Gore's perpetual slide show warn of the dire effects of climate change.
A cable channel called Planet Green debuts June 4, the first TV network to cover the environment full time. Even James Bond gets into the act this fall. The next 007 film, "Quantum of Solace," will feature an ecovillain trying to take over the water supply of a small country.
So where does Earth Day fit in? Everywhere, apparently. "Earth Day is all things to all people. It's a symbolic representative of the desire for everything we need to do to respect how we treat the earth," says Frank Maisano, an energy-industry spokesman in Washington.
Earth Day isn't even a day anymore. While April 22 is the official date, it's grown to become an earth week, an earth month, and more.
---