Riverkeeper: on patrol for polluters
For kids: This group does its part to protect New York's Hudson River.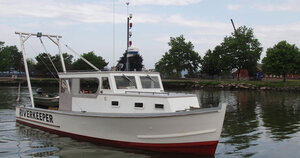 Joan Gaylord
In eastern New York State, members of a small organization known as Riverkeeper work hard to protect the very big Hudson River from polluters.
The Hudson River begins in the Adirondack Mountains and flows about 300 miles south to New York City, ending at the Atlantic Ocean. Although the Hudson is mighty, it still needs people to protect it from harm.
John Lipscomb is one of those people. He is the boat captain for Riverkeeper. Almost every day, Mr. Lipscomb starts the engine of Riverkeeper's white, wooden boat. Guiding it out of the marina, he heads up the Hudson. From March to December, he travels more than 6,900 miles up and down the river to look for polluters.
As Mr. Lipscomb guides the boat, he makes note of the animals and birds that he sees. Using binoculars, he scans the shoreline, looking for any changes since the last time he was in that area.
He inspects drainage pipes to see what people are pouring into the Hudson. When other boats pass by, he gives a friendly wave, but he also sniffs, checking for the smell of gasoline or oil that could be leaking from the boat and polluting the river.
Although it is usually called a river, nearly half of the Hudson is really an estuary. An estuary is where the mouth of a large river meets the sea and salty ocean waters mingle with the river's freshwater as tides surge in and flow out.
When native Americans lived in this area in the 1600s, the Mahican tribe saw how the ocean tides affected the water. They called the Hudson the Muh-he-kun-ne-tuk, which means "the river that flows two ways."
Estuaries such as the Hudson serve as important breeding grounds for fish and birds. Shad, blue crab, and herring all swim from the Atlantic Ocean into the Hudson to lay their eggs.
---