How to catch a wave in just a weekend of trying
Our Little Kahuna investigates the best way to sample surf if you've never done it before: skimboarding, bodyboarding, or surfing.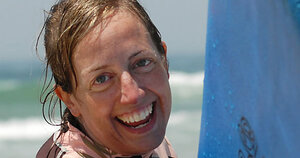 Mary Knox Merrill – staff
"OK, go!" This is my cue to run down a sandy incline, launch a skimboard, land on it sideways with both feet, and glide beyond a shoreline as slick as ice. Teenage boys relish this sport. I am not a teenage boy.
But that doesn't matter to Paulo Prietto, literally the world's best skimboarder, who's been coaching me for the past hour.
"You missed it," says Mr. Prietto. "Let's try this next wave coming in." Prietto locks his focus on a mounting swell to determine when I, with toes raw from wiping out, should take off.
As the waves hurl up and then collapse on the beach, they spread a film of water that's perfect for "skimming." The question on my panting breath is: Is this the perfect surf sport for me to be trying?
That's my assignment: Find what a reasonably coordinated person can do to best sample the waves if you only have a few days on the coast – be it Hawaii, Florida, or Cape Cod.
Before this spring weekend I'd never touched a skimboard, or any kind of surfboard. Stretching out on the sand has its rewards, but I wanted to move beyond being a "hill person" – someone who watches the surf from afar. I wanted to ride atop the froth and foam.
Just grabbing a board and jumping in doesn't work. I'd heard countless stories from would-be surfers: How hard it is to stand up, how tired you get paddling, how pummeled you feel if a wave crashes on your head.
---