Israel-Hamas standoff deepens water woes
Severe water contamination in the Gaza Strip is worsened by Israeli blockades, say many Palestinians.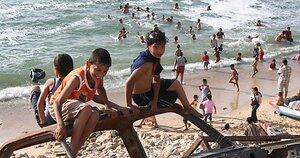 Rafael D. Frankel
AL-SHATI REFUGEE CAMP, The Gaza Strip
Five hundred yards south from where hundreds of children play in the water next to this refugee camp, a pipe spills 20 million liters of raw sewage into the Mediterranean Sea each day.
Between 105 and 120 million liters of sewage are generated daily in Gaza. Of that, only 20 million liters are fully treated, while another 40 million liters are partially treated. The rest flows raw into the sea, storm drains, and a massive landfill north of Gaza City, which spans 4.3 million square feet. The resulting pollution has sullied not only the seawater, but also the aquifer below Gaza, causing a severe shortage of potable water and putting the population at risk for a range of illnesses.
Untreated water is by no means the only pollutant in Gaza. "If there is a stronger word than catastrophe, I would use that word," says Nader Al Khateeb, the Palestinian director of Friends of the Earth Middle East, an environmental group working in Israel, Jordan, and the Palestinian territories, while describing the overall environmental situation in the Gaza Strip.
Much of this environmental deterioration can be attributed to Gaza's dilapidated water and sewage infrastructure, which has been further undermined by attacks and fuel blockades resulting from the standoff between Israel and the Hamas government. While the recent ceasefire has provided an opportunity for work on damaged facilities to resume, there's mounting concern that Israeli water supplies are vulnerable to cross-border contamination.
---