How to hitch a ride on the Web
Ride-sharing sites take a page from Facebook to match riders with rides.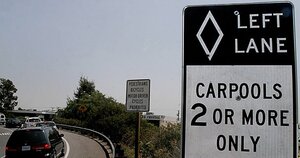 Aurelia Ventura/LA Opinion/newscom
James Tresner, a senior at Mid­dle­bury College in Vermont, used to ask around in his dorm or consult friends in hopes of finding someone to share expenses with when he drove home to Connecticut on break. Now he casts a wider net with just a few clicks of his mouse.
Mr. Tresner simply logs on to GoLoco.org, a social-networking website that connects carpoolers across the United States and Canada. For Tresner, a side benefit was a stimulating conversation with a fellow student from Tibet as the two shared Tresner's car over a Thanksgiving break.
As gas prices climb and global-warming headlines blare, more people are looking for ways to save fuel, including carpooling. GoLoco is one of several websites that is helping to match rides and riders. The scope of potential poolers is big: A 2005 US Census Bureau survey, the latest available, found that only about 11 percent of workers carpool, while 77 percent drive to work alone.
Besides being environmentally sound (cars contribute 20 percent to the US carbon footprint) and potentially convivial, carpoolers save cash.
---