EarthTalk: What's the 'greenest' TV?
Popular plasma sets are energy hogs; LCDs are better, but the ol' cathode-ray tube may be best.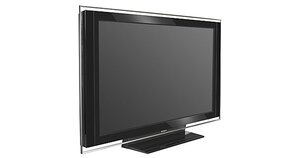 PRNews Foto/Sony Electronics, Inc.
Q: I need to replace my old TV. Can you tell me which of the latest models is the greenest? I was told that the flat-screen/­plasmas are real energy hogs. What do you­ recommend?
– Angela Montague, via e-mail
A: According to The Wall Street Journal's Rebecca Smith, a 42-inch plasma television can draw more power than a large refrigerator, even if the TV is only used a few hours a day. This is partly because many newer models don't turn off but go into "standby" mode so they can start up fast later with no warm-up period.
"Powering a fancy TV and full-on entertainment system – with set-top boxes, game consoles, speakers, DVDs, and digital video recorders – can add nearly $200 to a family's annual energy bill," she adds.
Smith recommends green consumers consider the Liquid Crystal Display (LCD) models, which typically use less energy than comparable plasma sets. According to the US Environmental Protection Agency (EPA), a 28-inch conventional cathode-ray tube (CRT) set uses about 100 watts of electricity. A 42-inch LCD set might consume twice that amount, while plasma could use five times as much, depending on the model and the programming. For the largest screen sizes (60 inches and up), projection TVs are the most energy efficient, logging in at 150-200 watts – significantly less than the energy a plasma set would use.
"What scares us is that prices for plasma sets are dropping so fast that people are saying, 'Why get a 42-inch plasma set when you can get a 60-inch or 64-inch one?'"says Tom Reddoch of the nonprofit Electric Power Research Institute. "They have no idea how much electricity these things consume."
---