Schools consider propane-fueled buses
Soaring costs prompt some to consider cheaper, greener fuels – but upfront costs can be steep.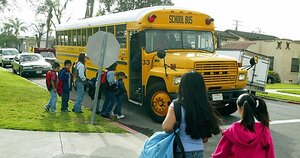 Newscom/File
The largest ground transportation system in the country is gearing up again, and that means confronting the rising cost of fuel. School buses shuttle some 25 million kids on school days, and while most districts have had a summer's respite from gas prices, those bills will start coming due again soon.
"Even [districts] that budgeted for a significant increase didn't budget for a 100 percent price increase," says Mike Martin, executive director of the National Association for Pupil Transportation. Last fall, he says, fuel cost about $1.95 a gallon. By spring, it was $4.05 in places.
So why not switch to a fuel that's not only cheaper, but greener as well? Some have done so already: The Portland, Ore., school district, for example, received a $600,000 federal tax credit last year for its liquid propane-fueled buses. Propane is cheaper and cleaner than diesel, which powers about 90 percent of the country's 500,000 school buses.
"I was not a believer in propane," says Phil Weber, Portland's director of student transportation. "But I crunched the numbers and propane does pay off."
Portland has used propane buses since 1983. But making the switch requires up-front investments in infrastructure and bus conversions or purchases.
John Kelly, executive director for transportation and support services at the Richardson, Texas, public schools, says the June fuel bill alone for his maintenance and operations fleet was $30,000. It had averaged just $8,000 a month a few years ago. "That takes a bite out of the budget,"
---
Subscribe to Recharge
Get the Monitor stories you care about delivered to your inbox.