Earthtalk: Are oil changes necessary every 3,000 miles?
Driving conditions make a difference, experts say, and vehicles can sometimes go much farther.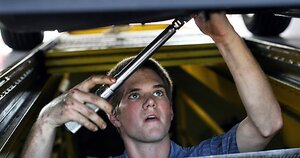 newscom/file
Q: How often do I really need to change my car's oil? Conventional wisdom has always put it at every 3,000 miles to prevent engine wear, but isn't changing oil that frequently wasteful and unnecessary? Also, what is the "greenest" and longest-lasting oil I should use?
– Vic Roberts, Lincoln, Mass.
A: There is much debate in the automotive world over how often drivers of typical passenger cars or light trucks should change their oil. The quick-lube chains usually recommend it be done every three months or 3,000 miles, but many mechanics would tell you that such frequent changes are overkill. Indeed, most car owner's manuals recommend changing out the oil less frequently, usually after 5,000 or 7,500 miles.
According to the automotive website Edmunds.com, the answer depends more on driving patterns than anything else. Those who rarely drive more than 10 miles at a time (which doesn't get the oil hot enough to boil off moisture condensation) or who start their car frequently when the oil isn't hot (when most engine wear occurs) should change their oil more often – at least twice a year, even if that's every 1,000 miles, according to Edmunds. But commuters who drive more than 20 miles a day on mostly flat freeway can go as far as their owner's manual recommends, if not longer, between changes. As a car ages, more frequent changes might be in order, but that's for a mechanic to decide on a case-by-case basis.
"The necessity of 3,000-mile oil changes is a myth that has been handed down for decades," writes Austin Davis, proprietor of the website TrustMyMechanic.com. He says that the economics of the oil change industry demand pushing customers to get their oil changed more frequently – purportedly as "cheap insurance" against problems cropping up – whether they need it or not. One of the largest oil-change chains, Jiffy Lube, for instance, is owned by Pennzoil-Quaker State, and as such has an incentive to sell as much of the company's traditional petroleum-based oil as possible.
---