Chinese eco-detective treads lightly
Zhang Yadong provokes and soothes government on environmental issues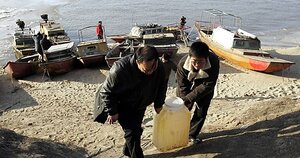 Peter Parks/AFP/Getty Images/FILE
"Can you smell something?"
Zhang Yadong stands on the banks of a murky stream and wrinkles his nose at the salty odor.
The Chinese government has promised for years to clean up this section of the Songhua River, known as the He Jia Gou stream. But it's unclear what progress has been made.
Mr. Zhang is using old-fashioned shoe leather to find out.
The stream flows into the main river right before it reaches Harbin, a city of 10 million people in the northeastern province of Heilongjiang.
Zhang takes in the scene: Across the river, dust swirls around a construction site. Nearby, a rust-colored pipe empties into the stream. On the banks, a few small vegetable plots are nestled against the brown water.
To gather information, the amiable young man strikes up conversations with some of the locals.
Three laborers sit by the riverbank, a businessman perches on a ledge with a book, and several farmers work in the vegetable plots below.
Zhang begins firing off questions: What is being built? What flows from the pipe? Is the ground water safe for growing crops?
When he leaves, he has a series of notes, to verify later with other sources: The buildings across the river are to be new offices. A planned water treatment plant has been started, but construction has proceeded in fits and starts. The pipe emits wastewater from construction sites. And the farmers are able to grow vegetables – but must sell them far from town, as locals won't eat food grown here.
None of the men comments on the smell. "They've been here so long, they think it's normal," Zhang says.
This is one of his regular "investigation trips." For the past several years, Zhang, the head of an independent environmental group in Harbin called Green Longjiang, has organized groups of volunteers – mostly young people and university students – to be eyes and ears on the ground, monitoring how the government's green policies are working in practice.
---