Controversial path to possible glut of natural gas
Water and chemicals injected at high pressure can extract more gas – and possibly pollute drinking water.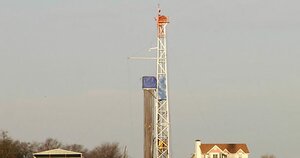 Courtesy of Kathy Chruscielski
After decades of declining US natural-gas production, an advanced drilling system so powerful it fractures rock with high-pressure fluid is opening up vast shale-gas deposits.
Instead of falling, US gas production is rising, with up to 118 years' worth of "unconventional" natural gas reserves in 21 huge shale basins, an industry study in July reported. Such reserves could make the nation more energy self-sufficient and provide more of a cleaner "bridge fuel" to help meet carbon-reduction goals urged by environmentalists.
Shale gas reserves have a powerful economic lure. Companies, states, and landowners could all reap a windfall in the tens of billions. Some also predict lower heating costs for residential gas users as production increases.
Now, scores of natural gas companies are fanning out from Fort Worth, Texas, where hydraulic fracturing of shale has been done for at least five years, to lease shale lands in 19 states, including Pennsylvania and New York.
But some warn that by expanding "hydraulic fracturing" of shale, America strikes a Faustian bargain: It gains new energy reserves, but it consumes and quite possibly pollutes critical water resources.
"People need to understand that these are not your old-fashioned gas wells," says Tracy Carluccio, special projects director for Delaware Riverkeeper, a watchdog group worried about a surge in new gas drilling from New York to Pennsylvania and from Ohio to West Virginia. "This technology produces tremendous amounts of polluted water and uses dangerous chemicals in every single well that's developed."
---