Before you buy those organic bluejeans...
Which is most ecofriendly, organic cotton or polyester? The answer may surprise you.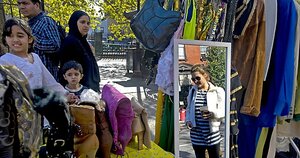 Ann Hermes / The Christian Science Monitor
Here's an ecoriddle for a concerned shopper: A store has two business suits for sale. One is made of renewable bamboo, the other of recycled polyester. Which is greener?
Before you start wrinkling your nose at petroleum-based products, wait a second. Despite the plant origins of the bamboo, the polyester wins hands down, says Pat Slaven, a textile expert at Consumers Union in Yonkers, N.Y., which produces Consumer Reports magazine. "Don't get me wrong," she says. "I love cotton, I love natural fibers, but polyester's going to clothe the planet."
As with organic produce, environmentally friendly garments are becoming easier to find and are coming down in price – although a buyer can still pay $290 for a pair of organic jeans.
The good news is there are many more ecofriendly options available – with everyone from Levi's to Target and Wal-Mart offering organic or recycled options. The bad news is that a consumer could be forgiven for thinking they need a degree in textile chemistry to sort out the shades of green.
Shoppers now face a wealth of questions that go far beyond "Does this make me look fat?" How many pesticides went into growing the material? (Approximately one-third of a pound for a conventional cotton T-shirt.) Does it have to be dry-cleaned? How were the sheep that produced the wool treated? If it's made of organic cotton, what kind of dye was used? How far did it have to be shipped before reaching store shelves?
Then there are a variety of new materials – from bamboo to soy, sasawashi to Tencel – claiming to be green and charging a premium accordingly.
---