For consumers, more incentives to go green
Buy a computer, help plant a tree. Do such offers live up to their promise?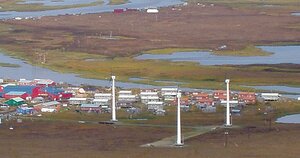 Intertribal Council on Utility Policy (ICOUP) / FILE
Eliot Winks was buying a plane ticket when a chance to be environmentally responsible presented itself during online checkout. For an additional fee, about $25, Expedia.com offered to offset the carbon dioxide generated by his trip through its partnership with TerraPass, a carbon-offset provider.
"It was a nice added bonus to using the Expedia website, which I couldn't do if I'd bought the ticket directly on the airline website," explains the Rev. Winks, an Anglican priest with a young family in Towson, Md.
After a little research, he felt confident that his donation was going to meet with viable implementation.
"At the end of the day, though, people can say whatever they want to say, and unless I go to Nebraska to see the wind farm, there's a balance between trusting what you read and a leap of faith that your money is going where they say it's going to go."
The environment is the latest entrant in the field of cause marketing. Increasingly, consumers have the option to check a box and make a small donation to an environmental cause to offset the impact of their purchase. Companies such as U-Haul, Delta, Continental, Orbitz, and Travelocity all offer some form of incentive option. In Ticketing lets concert-goers plant "one tree per ticket" by adding $2.95 to their ticket purchase. From computers to cars, companies are greening their brands with environmental incentive programs. But in the absence of regulation, the onus is on consumers to make sure the company keeps its promise.
---