How to be clean and green
Parties promote natural, make-it-yourself alternatives to store-bought cleansers.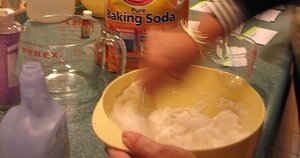 Lisa Schroeder
On a brisk fall evening on New York's Long Island, party guests gather in Barbara Weir's home to chat about the news and whip up batches of eco-friendly cleaners.
Green-cleaning parties – where guests create quick, easy, and cheap environmentally-friendly household cleaners in a festive setting – is a fast-spreading grass-roots effort pioneered by Women's Voices for the Earth (WVE), an advocacy group based in Missoula, Mont.
The party concept started when WVE put out a report in 2007 called Household Hazards in which they examined more than 200 chemical ingredients in commercial cleaners. The report found that many of those chemicals were harmful to the environment as well as "linked with asthma, infertility, birth defects and reproductive harm," says WVE spokeswoman Ali Solomon.
The group decided the best way to reach consumers about this issue and offer alternatives to store-bought cleaners was through a fun party. WVE spent months researching do-it-yourself green cleaners (they tested and perfected the recipes with professional cleaning companies), created a party kit, and launched their first party on March 20 this year.
The party idea quickly spread by word of mouth and there now have been more than 450 nationwide.
At Mrs. Weir's in East Islip (after snacks and a DVD on commercial cleaners), the guests were ready to make ecocleaners. They gather around a kitchen countertop lined with natural ingredients. Baking soda, distilled white vinegar, vegetable glycerin, castile soap, olive oil, and essential oils would soon become all-purpose cleaner, soft-scrub, and furniture polish. These would be decanted into the old spray bottles and glass jars that guests had brought.
---